The Chicagoland Apartment Association has partnered with our Associate Members to bring you two new educational webinars every month! Register for our March events below.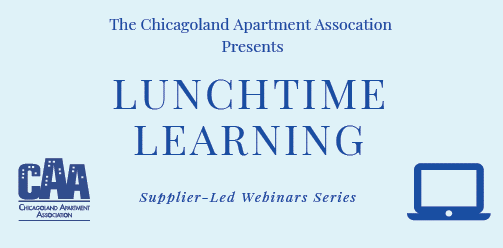 FREE for all CAA Management Company Members/ $29 Non-Member Rate
*Each webinar qualifies for 1 CE each towards NAA designations
Exteriors Maintenance with Multifamily Experts
12:00 PM - 1:00 PM (CST) on Tuesday, March 9, 2021
Presented by CAA & CRG Residential
Learn about maintaining exterior finishes; identifying source of water infiltration (and why that is important); and correcting issues using industry‐best practices.
Air Filtration
12:00 PM - 1:00 PM (CST) on Tuesday, March 23, 2021
Presented by CAA & Second Nature
Attendees will gain a better understanding MERV ratings and particle size ranges; ways to save money with a pleated filter maintenance program; why a healthy building is good business and the current state of the industry.