About Us
About CAA
Founded in 1989, CAA is the only affiliate of the National Apartment Association (NAA) in the state of Illinois. As a non-profit trade association, we are dedicated to serving the needs of the industry. Our membership is comprised of over 250 companies who manage more than 275,000 apartment homes. Together, with our supplier partner members who provide needed products and services, we work to promote and advance the apartment industry in greater Chicagoland and throughout the state.
Mission Statement - The recognized leader and voice dedicated to serving the needs of the apartment industry though advocacy, education and networking.
The CAA hosts cutting edge education and training programs and networking opportunities, guides the industry in the legislative arena, and encourages meaningful partnerships within the community.Our goal is to be a credible and reliable source of information and training to all owners of apartment homes, large or small, and their partners.
About NAA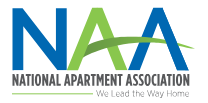 The National Apartment Association (NAA) is America's leading advocate for quality rental housing.
NAA's mission is to serve the interests of multifamily housing owners, managers, developers and suppliers and maintain a high level of professionalism in the multifamily housing industry to better serve the rental housing needs of the public.
NAA provides a wealth of information through advocacy, research, technology, education and strategic partnerships. Our purpose is to support an industry that offers safe and affordable multifamily housing to the public, equally compensates its workforce and provides investors with a fair and reasonable rate of return.