Speedy Sessions: Lunchtime Webinars
Date posted
April 14, 2020
Speedy Sessions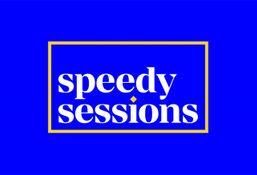 Join the industry experts on Tuesdays and Thursdays for this lunchtime webinar series!

Today's hottest topics presented by LIVE speakers in a virtual environment. Expect lively presentations and a great use of your time as only the best in the business can present.

Individual Sessions are available to anyone for purchase. CAA Members have the option of purchasing the Speedy Sessions Bundle which provides individual access to all 6 webinars at an exclusive discounted rate!

A full schedule of seminars is listed below.
Click the session titles below to find course descriptions and registration link.
April 21 | 12:00 pm - 12:45 pm
Successfully Creating, Utilizing and Closing Virtual Tours
Presented by: Lisa Trosien

April 23 | 12:00 pm - 12:45 pm
Use Your EQ to Tame Your Brain and Cope During Crises
Presented by: Valerie M. Sargent

April 28 | 12:00 pm - 12:45 pm
Social Messaging in Today's World
Presented by: Kate Good

April 30 | 12:00 pm - 12:45 pm
4 Leadership Strategies to Apply Right Now to Respond, Support and Care During the COVID-19 Crisis
Presented by: Amy Kosnikowski-Dilisio

May 5 | 12:00 pm - 12:45 pm
Leasing and Marketing When Your World Has Gone Crazy
Presented by: Virginia Love

May 7 | 12:00 pm - 12:45 pm
Keeping Teams Motivated During Challenging Times
Presented by: Jackie Ramstedt

*Each session is worth one (1) CAPS, CAM, CAS, NALP, or AIME Continuing Education Credits (CECs)
If you have any questions, please email Alana White at alana@caapts.org.