CAA Signs Housing Solidarity Pledge at City Hall
Date posted
April 29, 2020
At a City Hall press conference this afternoon, CAA Executive Vice President Michael Mini joined Chicago Mayor Lori E. Lightfoot, and leaders of the multifamily and banking industries to introduce the "Chicago Housing Solidarity Pledge." 
The Chicago Housing Solidarity Pledge is an effort to provide relief to beleaguered tenants and building owners negatively impacted by the coronavirus disease 2019 (COVID-19) pandemic. The pledge affirms lenders and landlords may offer eligible renters and mortgage holders deferred payment agreements and other financial relief in response to the economic fallout of COVID-19 and continuing after the pandemic.
"Our bold, data-driven response to the COVID-19 virus has already yielded important gains to our public health, but it has also come with additional costs that are being borne out by those least able to afford them," said Mayor Lightfoot. "The Chicago Housing Solidarity Pledge represents our city's shared commitment to our residents and building owners alike whose homes and livelihoods have come under threat as a result of this crisis, and I am extremely proud that renters, landlords, homeowners, and lenders have all come to the table to work in partnership for our city and develop strong solutions to our shared challenges."
"The Chicago Housing Solidarity Pledge is about compassion and flexibility," said Department of Housing Commissioner Marisa Novara. "It's about everyone doing their part. We are asking landlords to work out flexible payment plans with tenants, and to do so, they need flexibility from their lenders. Tenants who have lost work, communicate with your building owner and try to work out a plan and tenants who have not lost work, support those who have by paying your rent.  Working together, we can keep Chicagoans stably housed during and after this crisis."
Under the Chicago Housing Solidarity Pledge, Chicago's landlords affirm they may provide one or more of the following for eligible renters who demonstrate a significant financial impact resulting from COVID-19:
Grace Period for Rent Payments: Offer deferred payments with repayment terms that avoid repayment at the end of the deferral period.
Written Repayment Plan: Permit renters with a missed rent payment to amortize the payments over time.
No Late Fees for Missed Payments: Provide relief from rent-related late fees.
"The apartment industry is committed to being part of the solution for renters and housing providers in need during these unprecedented times, and we appreciate the efforts of Mayor Lightfoot and her staff to help all of us navigate through the process," said Michael Mini, of CAA. "We are all in this together, and in thousands of recent instances, multifamily building owners and managers are working with tenants individually on extended payment plans, waiving late fees, and offering significant grace periods, just as the Mayor has asked. We expect these types of accommodations to repeat tens of thousands of times going forward. We're all in."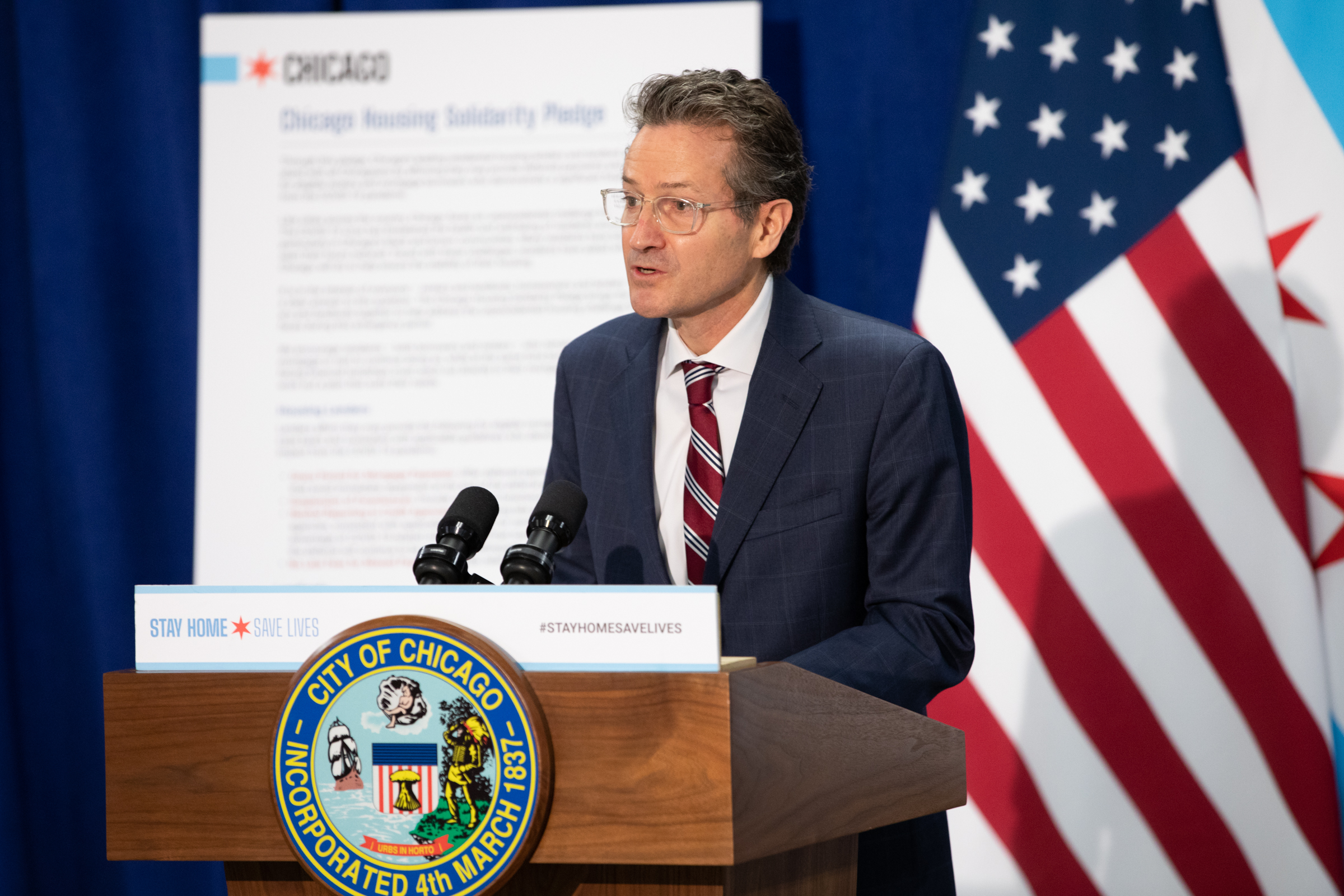 CAA Executive Vice President Michael J. Mini addressing the press at City Hall in Chicago on April 29, 2020.
The following organizations have also committed to the Chicago Housing Solidarity Pledge:
Chicagoland Apartment Association (CAA)
Bank of America
BMO Harris Bank
Byline Bank
CIBC
Fifth Third Bank
First Eagle Bank
First Midwest Bank
Northern Trust Bank
PNC
US Bank
Wintrust Bank
Second Federal Credit Union
Seaway Credit Union
Lawyers Committee for Better Housing (LCBH)
Neighborhood Building Owners Alliance (NBOA)
Chicago Association of REALTORS (CAR)
 Local Chicago Media Coverage (April 29, 2020):