PROSPECTIVE 2019 TSEC EXHIBITOR INFORMATION
the 2019 trade show & education Conference (TSEC) will be held on Tuesday, April 9th.
SHOW ATTENDEE RULE
Employees of (member & non-member) management companies, employees/staff of (member & non-member) properties, and exhibitor company booth staff are the only people allowed to partcipate. (Employees of associate/supplier companies that are not exhibiting, regardless of their membership status, are not allowed to attend.)
GENERAL SHOW INFORMATION (FOR EXHIBITOR COMPANIES)
TRADE SHOW VENUE INFORMATION
Drury Lane Theatre & Conference Center
100 Drury Lane
Oakbrook Terrace, IL  60181
KEY EVENT TIMES FOR EXHIBITORS
The trade show will be held on Tuesday, April 9th. Exhibitor move-in and move-out take place on the same day. 
ADDITIONAL INFORMATION & LINKS
sHOW HOTEL INFORMATION
CAA is no longer able to secure room blocks at nearby hotels for out-of-town exhibitors (due to our inability to fill room blocks in past years). However, two hotels (see below) are located within walking distance (one on each "side" of Drury Lane's parking lot). 
---
EXHIBITOR COMPANY REQUIREMENTS
CAA MEMBERSHIP DUES
All companies MUST be paid 2019 associate/supplier members of CAA in order to participate. 2019 CAA associate member dues are $750 (plus an additional $50 for new member companies). 
NOT A MEMBER OF CAA & INTERESTED IN JOINING?

ALREADY A MEMBER OF CAA?
If you need to confirm if your company is a member, need to confirm if your company has paid its 2019 dues, or if you need a copy of your 2019 dues invoice, please contact CAA Staff Member Maria Ragusa (312) 207-1890 ext. 2 
CERTIFICATE OF INSURANCE (COI)
A Certificate of Insurance (COI) that meets ALL of the requirements listed below is REQUIRED from all of our exhibitor companies, and is due to Lisa Henning (via email at lisa@caapts.org) by
Friday, March 22nd. Click here to view a sample COI.
Certificate is valid through (& including) the 4/9/19 event date
Chicagoland Apartment Association (CAA) is named as a Certificated Holder AND is named/listed as an Additional Insured (CAA is located at 557 W. Randolph Street, Suite 201, Chicago, IL 60661)
Drury Lane Theatre & Conference Center is named/listed as an Additional Insured (Drury Lane is located at 100 Drury Lane, Oakbrook Terrace, IL 60181)
The
recommended
(not required) coverage is as follows:
$1,000,000 Each Occurrence
$2,000,000 Aggregate General Liability
$1,000,000 Umbrella (if your company has it)
---
BOOTH/BOOTH TYPE INFORMATION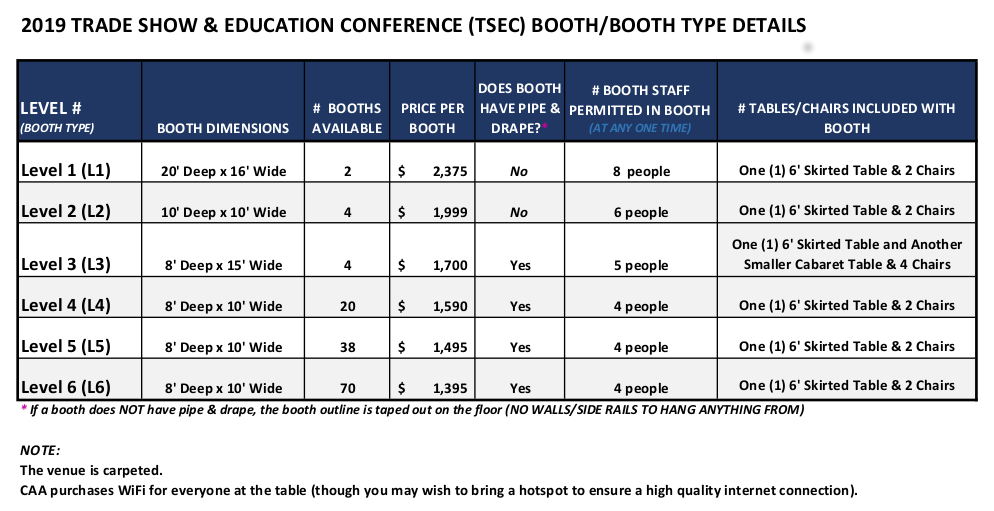 2018 TRADE SHOW & eDUCATION CONFERENCE (TSEC)
Can't remember if you exhibited in the 2018 show or what your booth number was? Click here to view all of the 2018 exhibitor company names (& their 2018 booth numbers) in this document pulled from the 2018 TSEC Show Guide.